shibashi introduction
Welcome to Shibashi - no, not another 1000 year old exercise whose origins are lost in mists and time. We know where this one comes from - thanks to Dahlis Roy (she learned directly from He Wei Chi) whose knowledge was a great help. more about Dahlis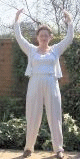 Also spelled Shi-ba-shi - the 18 style Taiji Qigong has a host of names including the 18 postures, the 18 movements and the 18 exercises - was created in 1982 in Shanghai, China by Tai Chi Master He Weiqi (He Wei Chi) and Qigong Master and healer Lin Hou Sheng. The routine combines elements from the Tai Chi Yang form and more traditional breathing and movement exercises from Qigong.
Shi ba shi has quickly become very popular across the world and is practised by millions. In fact it is so popular and effective that it is considered to be the national health exercise in Malaysia and Indonesia! And given that prevention is better than cure (and usually cheaper) it sounds like a great idea to have a national health exercise.
Master Weiqi went on to design a second 18 form to complement and enrich the original. Meanwhile, she and her husband Coach Xu now teach and live around Long Island, NY and in 2004, Master Weiqi was named Woman of the Year by the Inside Kung Fu magazine.
For biographies have alook at He Wei Chi and Lin Hou-Sheng's official website