tai chi information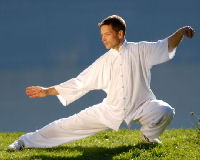 We hope that our tai chi information helps answer all those little questions you wanted to ask - but never got round to!
For us it all started when we saw classes advertised at the local high school ......
We'd seen pictures of people waving their arms in parks and we guessed that it was tai chi. But what exactly were they doing? And what exactly was it doing to them? We hadn't a clue. And like you we were keen to know more.
Finding answers was another thing entirely.
When we went looking for information there was lots of it about. We found 'taichi', 'tie chi', 'tie chee', 'taichee', 'taiji', 'taiji chuan', 'tai chi chuan', 'chi kung', 'qi gong' and even 'gi gong' and lots of other variations!.
We looked at hundreds of sites and found lots of information, some contradictory, some we couldn't understand and some that seemed to make good sense. And a lot of the web sites just had information about their own club or their own style rather than more general information.
We've found good, sensible answers to lots of our questions and we've put them in this section.
We hope you find the answers that you are looking for - and that they make sense to you.
If you have any questions you would like answered, suggestions or information that you would like to share then contact us. If you would like to be kept informed when new tai chi information is added to the site then keep me informed.