qigong exercises: flying like an eagle
qigong exercises contents
introduction:
This is one of a set of excellent qigong exercises designed to strengthen the back and promote a general sense of well being.
Imagine that you are a powerful eagle as you raise your body and heels and stretch your wings out to get ready for flight - great fun.
benefits:
Often people with back problems are told to exercise by doing heel raises – they are in here – slowly and gently as your eagle stretches for take off
the gentle raising of the heels also improves balance - especially since this is coupled with shifting body weight as you raise the arms
and lastly, if you wear supple shoes, the action of raising up and on the ball of the foot massages the 'bubbling well' - the acupressure point on the ball of the foot.
top
tips:
power the lifting of the arms from the shoulders not your forearms or hands
avoid standing too high on tip toes – it's not needed and you could overbalance
Always do things slowly and comfortably – Tai chi and qigong for health and relaxation are not meant to hurt! – ever!
top
qigong exercises: flying like an eagle:
opening position:
stand with feet shoulder width apart
feet parallel and facing 12:00
imagine head lifted from crown
chin tucked in slightly
eyes forward and relaxed
shoulders relaxed
arms hang loosely down
fingers gently apart and slightly curved
palms towards body
tailbone tucked in
knees relaxed - slightly bent
raise heels:
breathe in
raise body
raise both heels
arc arms out and up until elbows at ear height
palms face ground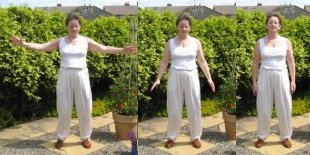 lower heels:
breathe out
lower heels to ground
sink body down
arc arms down and in until arms at sides
palms face thighs
return to starting position:
breathe in
raise until knees slightly bent
Putting it all together:
The complete chi exercise sequence