dayan chi kung resources

We have found lots of great dayan resources for you to try out. We hope you find something you like. You can either keep scrolling down or go to the contents list using top
downloads
We found these pdf files on other sites this means that we are not responsible for the content - but we thought that you might find them interesting.
list of the 64 postures with hints on acupoints. There are no instructions so it will only be useful for checking the sequence and identifying the main meridian points used in the form
Dayan Five Elements list. This is interesting because it associates the moves with the five elements:- earth, wood, fire, metal and water. Could be useful transformed into a story which would make the overall sequence easier to remember.
articles
Dr Binkun Hu writes about how beginners learn wild goose qigong and about specific techniques for some of the different parts of the wild goose system read Dr Hu's articles
Persistence and Grace of the Wild Goose An Introduction to Dayan Qigong. By Ronnie Robinson in Taijiquan and Qigong Journal, Vol. 7, Issue 1, 2002.
sites of interest
smileforachange has an interesting comparison of the 3 different version of the posture names in the first 64 form click here to visit them
Michael Garofalo's site remains an inspiration, solid information delivered with style lots of dayan wild goose information
wild goose masters and teachers
Grandmaster Yang Meijun 1895-2002 was the 27th Inheritor of the dayan system was an inspiration to all she taught. She started learning the Kunlun dayan qigong from her grandfather when she was 13 and she continued to work and develop her understanding of dayan qigong with a few select students. After the death of her husband she decided that dayan qigong was too important to remain a family secret and gave permission for her work to be taught to the general public. read more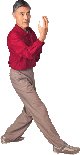 Dr. Bingkun Hu is a medical Qigong Master and Qigong therapist. He has been practicing  Qigong and traditional Chinese medicine (TCM) for over 50 years and is said to be one of the few living masters to know the full dayan system. visit Dr Hu's site
Michael Tse studied with Yang Meijun and is now based in the UK. read more about Michael and wild goose
Hong-Chao Zhang is a qigong master Master Zhang who studied wild goose dayan qigong from with Madame Grandmaster Yang, Mei-Jun. Author of Wild goose qigong: natural movement for healthy living. read more