tai chi photos in beautiful Scotland
tai chi photos contents
introduction
They always say that you should practise tai chi in the fresh air, so we thought that we would try to take the last set of shibashi instructions outside. So we went looking for pretty locations. All these were taken on October 30th 2003 around Loch Achray in Scotland.
Feel free to try and guess the form, application or even style in the following tai chi photos and feel free to use these in your club magazine, presentations, in school projects or even on your site. Please check out our terms of use
waterside tai chi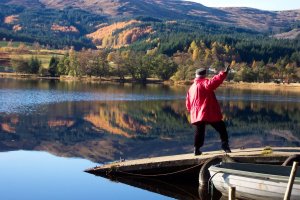 Blindly following instructions can lead you into deep water.
But actually it was too hot in the sun - in October!
So on to tai chi fan to cool down!
fluttering fan
top
By this time the wind was getting up and the fan was fluttering too much. So on to tai chi ball
tai chi ball
Apparently the ball was blending in too much with the background - we needed somewhere darker
It might be better if you had something in your hands she said! Try the other tai chi ball routine. I noticed that this time I was walking towards the water!!
tai chi reflections
What we need are some good reflections she said - go stand over there - and stay still. Though how I am supposed to that while doing the Scooping the Sea move ....
If you look carefully you'll see Jackie's shadow - it's probably the only photograph you'll ever see of her !
At this point Jackie is walking away saying that she needs more trees.
And now I can't even hear what's she's saying! So back to the castle for a hot drink.
tai chi holiday
Back to the castle to see how the photos come out. Pretty impressive for holiday accommodation - yes?
tai chi evening
At the end of a busy day we came back to find a rainbow
fantasy tai chi
tai chi photos we wished we could have taken - you can dream - can't you?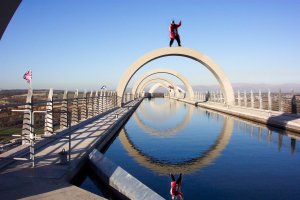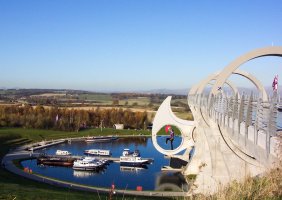 which just goes to prove you can't believe anything in a photograph anymore.